SERVING AND UPLIFTING WOMEN DAILY
WITH MODERN AND FUNCTIONAL BAGS.
What we're all about
Actë Nation is a digital handbag brand that investigates the common bag-related problems modern women face, and designs a range of products to solve them. We take style seriously, but form always follows function first. Our bags are made for real life, and we're in constant conversation with our customers to learn what features suck and which ones can be improved or added to better meet daily demands. But we don't just aim to make more efficient handbags. It's our mission to create solutions that can truly uplift our customers and help them express their best, kick-ass selves.
This is our obsessive passion.
Why Actë Nation?
You're sweaty, frustrated, and late to an important, could-be-life-changing meeting after missing your train digging through your bag for your metro card. (Which you finally found, after first laying your fingers on a very sticky piece of candy glued to your long lost favourite lipstick). Finally arrive. Then, just as you open your bag to pull out your laptop, a tampon (yes, we just said that word) flies out of nowhere and makes a surprise appearance on the boardroom table - and yep, it lands right next to the coffee cup of your would-be-client. [Insert self-implosion here.]
Hopefully, this exact scenario isn't all too familiar, but you get the point. The handbags we so crucially rely upon to carry our busy lives around can be cute and helpful one minute, and embarrassingly shitty the next.
But when we're aiming for greater things in life, trying to level up and achieve our goals—or simply get from work to lunch-yoga to dinner date in one composed piece—we honestly don't have time for added stress or inconvenience.  
We asked ourselves one question: "Will we ever find a brand that has everything we need and love about handbags, without the things we don't - a brand that just gets us?"
Actë Nation was born out of this very idea. That no woman should be held back by her handbag. Not by size, not by style, not by lipstick-eating pockets or shoulder-digging straps.
At Actë Nation, we combine problem-solving designs with functional and modern shapes to help you unleash your unique superpowers and express your best self. Because, not only should your handbag complement your outfit and your busy schedule, it should also help you succeed—and make ruling your life feel more effortless and powerful than ever before.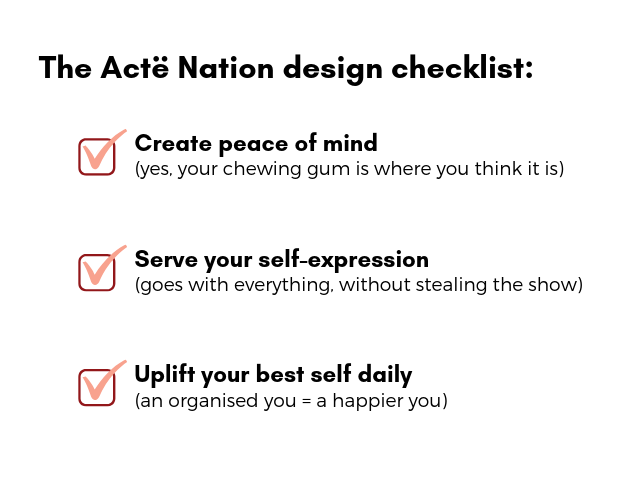 Consciously made for women, by women
The founding idea for Actë Nation was born in Luxembourg. The designs were sketched in major cities all over the world, in close conversation with amazing, go-getter women who were kind enough to let us peek inside their handbags. And then, we searched the world for an entire year before finding the perfect manufacturing partner in the mountains of Spain to help us bring Actë Nation to life.
Each Actë Nation product is meticulously handmade by a generations old, female and family run leather manufacturer that works with luxury brands from around the world.
The entire process, from prototyping to end production, is 100% made in Spain. And the majority of the materials are sourced from Europe—this helps us ensure that our materials are compliant with the EU's REACH environmental regulations, plus keep travel distances to a minimum.
"A new bag is virgin territory that allows you to become the best and most efficient version of yourself."
Alexandra Shulman, the longest serving editor in the history of British Vogue
What does Actë mean? 
Actë (pronounced "act-eh"), is a conjugation derived from the latin verb "ago" and the latin noun "actus," which mean:
Do, act, make

Accomplish, manage, achieve

Perform, push, move

Guide

Stir up, excite, cause, induce

Pursue

Slay

Put forth, sprout, extend.
The "Nation" in Actë Nation refers to a community of like-minded women. Real, ambitious women who act and move themselves, their careers, their friends, their family, and society at large forward in a bold, and unapologetic way.
Even if moving forward sometimes means taking a real moment now and then to de-stress, self-nourish, and re-power—before getting out there and kicking ass again.